The Faculty of Health and Well-being holds a lecture on laugher studies
The first lecture of a series introducing laughter studies was held at Sakai Campus on May 27.
"Introduction to the Study of Laughter" is an open lecture series held as one of the regional collaboration programs between Kansai University and Sakai City for learning about the theory and practice of laughter and humor, based on the faculty's humor-study program. The lecture uses a book by Emeritus Professor Yoji Kimura, who developed a system for measuring the quantity of laughter using the measurement unit "aH" to explain laughter across various fields such as human science, literature, sociology and brain science.
Professor Shinya Morishita at the Faculty of Health and Well-being gave a lecture titled "To the Country of Laughter: Flowers in Bloom". A total of 113 participants intently listened to his lecture about the traditions of Japanese laughter culture.
The course consisting of 11 lectures will continue until January 2019. Each lecture aims at deepening participants' understanding of the study of laughter and humor, which has been inherited as research at our university, and also to promote the idea that laughter is essential for healthy living.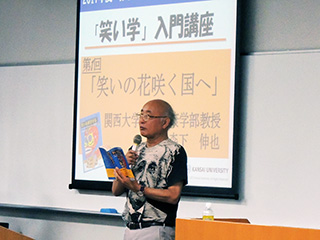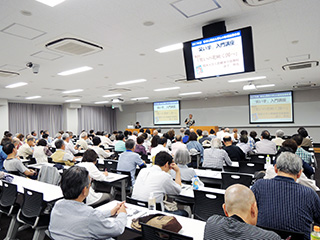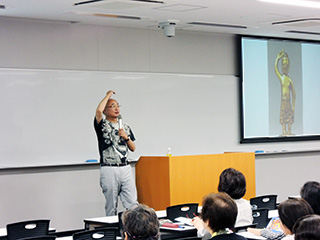 June 15, 2017 11:27 AM UP