130th-anniversary Event: Toyotomi-period Osaka-zu Byobu Concert
On August 9th, the Toyotomi-period Osaka-zu Byobu Concert was held as one of the events commemorating the 130th anniversary of Kansai University. Our students and the Graz Festival Strings, a professional orchestra from Europe, performed together for the purpose of international cultural exchange.
The origin of the concert was a Japanese folding screen, or byobu, which had been found at the World Heritage Site Eggenberg Castle in Graz, Austria in 2006. Since the discovery, Kansai University, Universalmuseum Joanneum (the Styria state museum in Austria) and Osaka Castle Museum have jointly researched it and found that it was made in the mid-1600s and contains unparalleled historical knowledge about the city of Osaka prior to its burning down in the Summer Siege of Osaka. The cities of Osaka and Glaz have embarked on a program of regular exchange, including concluding a friendship agreement between Osaka Castle and Eggenberg Castle, and decided to hold a magnificent anniversary concert in both cities.
KU President Harushige Kusumi and Chairman of the Board of Trustees Keizou Ikeuchi started the concert by introducing the relationship between KU and Glaz involving the folding screen. Next, Dr. Barbara Kaiser, principal curator of Eggenberg Castle Museum, gave an explanation about the screen's history, charms, and the process leading to its discovery. She played an important role in the registration of the Eggenberg Castle as a world cultural heritage site.
The Glaz Festival Strings performed a composition written especially on the theme of the historical screen, in front of drop curtains with beautiful drawings of the Osaka-zu byobu on it. It was the first time to have a performance with the curtains lowered in this manner for an authentic classical-music concert, and thanks to this, the audience could enjoy both an acoustic and visual experience. A Japanese traditional musical instrument, jyoruri-shamisen, was also included in the performance, its sound reminiscent of the prosperity of the city during the period.
Kansai University Orchestra, Glee Club and Mixed Chorus Group "Hibiki" appeared on stage, and performed works including Antonin Dvorak's Sixth Symphony with the professional orchestra. A member of KU orchestra and a sophomore in the Faculty of Economics, Takeshi Hayashi, directed the orchestra as the conductor for the performance of the Kansai University song. The conclusion of the performance was met by a climax of applause from the 2,000-strong audience, which filled the venue to its limits. The generous applause, dedicated to all the performers on stage, continued long after the end of the concert.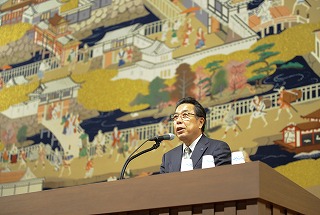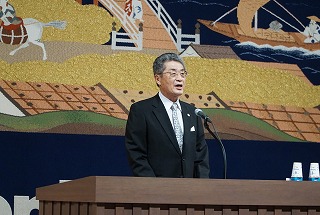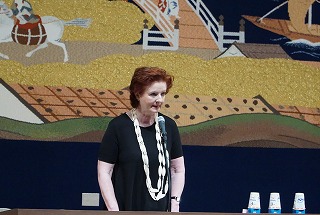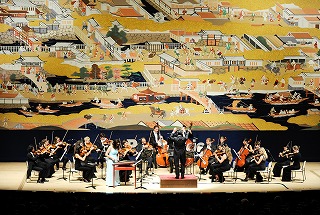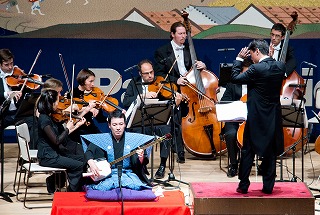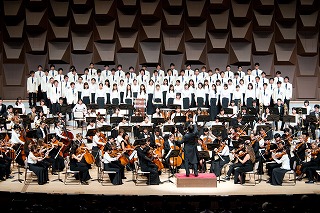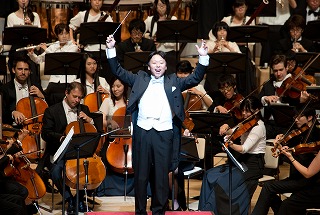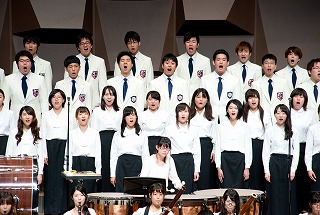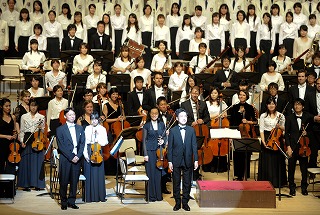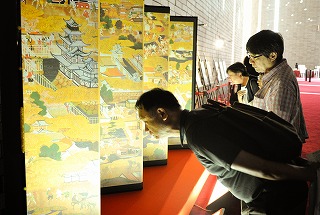 September 07, 2016 11:42 AM UP