"Kandai Yukata Day" held at Senriyama Campus
On July 7, the third "Kandai Yukata Day" was held by a total of 16 KU volunteer students at Senriyama Campus.
Following the concept of "a little excitement in daily life," the students organized the event to wear summer cotton kimono - Yukata, which has recently attracted attention as a kind of ancient Japanese "Cool Biz."
Although it was raining lightly and not a great day to wear Yukata, students commuted to KU in various colored and patterned kimono, and enjoyed discounts at nearby shops, and a snapshot service which had been prepared for Yukata wearing students by the volunteer student group. The campus and streets in front of the campus were filled with colorful Yukata.
As it was also Tanabata (Star festival), students wrote their wishes on reed-shaped paper and hung them from bamboo branches as is the tradition in Japan. At the end of this event, about 50 students in Yukata gathered at the Yukyu-no-niwa open space to take a commemorative photo together.
The volunteer group leader, Masato Suzuki (Faculty of Sociology, junior), said "the number of participants didn't reach what we expected, but it was good to see everyone smiling." He continued "this was my first and last time to set up the event. I learned a few things along the way and will pass on my knowledge to next year's leaders top make sure the event is even more successful."
One of the volunteer members, Yukika Ohta (Faculty of Sociology, freshman), mentioned "I felt a little embarrassed to commute in to school in a Yukata. But at the same time, I was able to communicate with students I didn't know." She plans to participate next year as well, and promote the event more."
Makoto Murase (Faculty of Business and Commerce, freshman) commented "I found the event on Twitter, and just participated as it sounded like fun. I could feel a sense of summer by wearing Yukata. It is nice to have this kind of occasion once a year."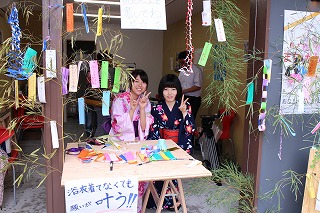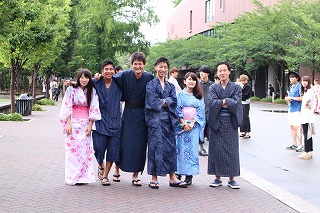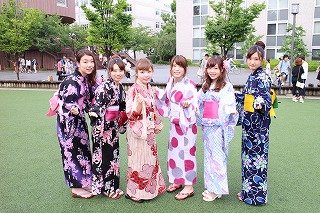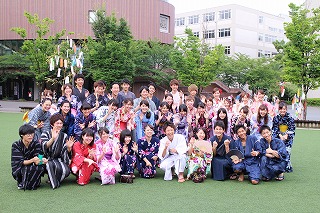 July 22, 2015 01:47 PM UP