Course Completion Ceremony for Exchange Students
On January 26, the 2014 Fall Course Completion Ceremony for exchange students was held at Senriyama Campus.
The Dean of the Division of International Affairs, Yutaka Maeda, awarded the completion certificates with a word of encouragement to each of the 26 exchange students, coming from 10 countries and 17 universities. A student representative gave a speech and said that the difference among cultures is what makes the world so beautiful and diverse, and that she wonders how the students have changed after having such wonderful experiences in Japan. Looking back on her days at KU, she expressed how grateful she was for the support shown by many people.
A total of 120 exchange students who have competed the course and those who will continue to study, as well as Japanese students and educational staff attended the farewell party after the ceremony.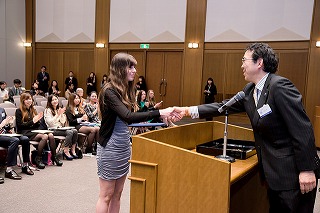 Ms. Jakeleen Alexia Perez receiving her certificate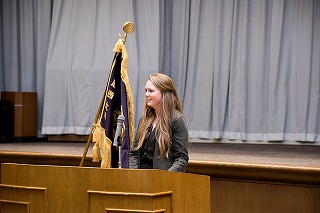 Ms. Rose Dixon, the representative student

Farewell Party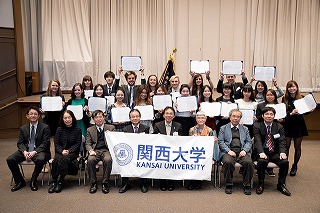 March 03, 2015 10:06 AM UP