Open Lecture by Leonardo da Vinci Museum Network
On October 3, an open lecture by Leonard da Vinci Workshop Caravan 2014 was held at Senriyama Campus.
Each of the guest lecturers in various fields including science technology, history and art gave lectures on the theme of "Link the World through Science and Art" with a focus on Leonard da Vinci.
Special guest lecturer, Fiorenzo Galli, Director General of Museo Nazionale della Scienza e della Tecnologia Leonardo da Vinci, gave a talk on "Integration of Science-Technology and History-Culture". Director Galli raised his concerns about the current lack of resources caused by population increase. He talked of the importance of all people proceeding towards a common future, and employing science technology for this purpose. He also mentioned how Leonardo da Vinci was a remarkable person who enhanced the path to modernization. He was always searching for answers to forge ahead, and showed how the integration of culture, science and art was essential to create a better future.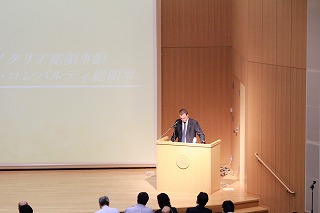 Counsellor Marco Lombardi, the Consul General of Italy in Osaka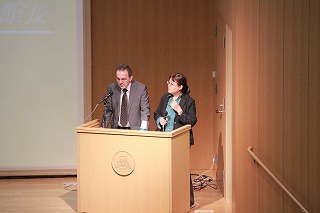 Director Stefano Fossati, the Italian Insitute of Culture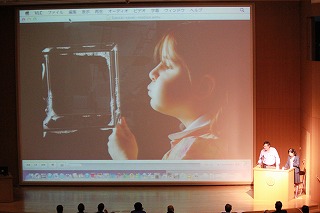 Director General Fiorenzo Galli, Museo Nazionale della Scienza e della Tecnologia Leonardo da Vinci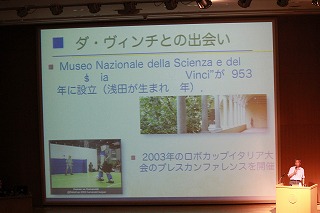 Professor Minoru Asada, Graduate School of Engineering Osaka University

October 21, 2014 02:53 PM UP