KU had a visit from Bridgewater State University
On June 4, students and staff from Bridgewater State University (BSU) USA, one of our partner universities, visited Senriyama Campus.
This year, 14 students whose majors are history and business, and who have an interest in Japan, came to KU accompanied by BSU faculty member, Professor Wing-kai To. In "Study Skill Seminar (Presentation)", a class run by Professor Toshiyuki Yamamoto, Division of Promotion of Educational Development, BSU students made a team with Japanese students and gave speeches respectively on themes such as the difference between American and Japanese university life, stereotypes and culture. Students from both countries deepened their understanding of each other through discussions in the class.
In the afternoon, BSU students participated in Kendo class by Associate Professor Alexander Bennett, Division of International Affairs. Along with an explanation about the techniques and gear used in Kendo, Prof Bennett introduced Japanese culture by explaining about the "Bushido spirit" and ethics, and also "Zan-shin" (lingering spirit), which is a very important mental attitude in Kendo. When two Japanese students from KU's Kendo club engaged in "Kakari-geiko" (attack practice), as it was very powerful, the students erupted into applause. At Q&A time, students asked question after question to Prof Bennett and the Kendo club students.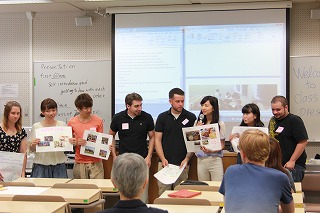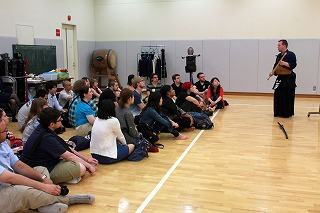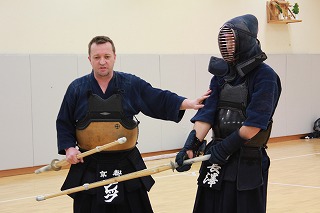 June 19, 2014 04:01 PM UP