Japanese Language Teachers visit KU from Australia
On January 17th, 59 Awardees (Japanese language teachers and trainees), as well as their group leaders enjoyed cultural activities at the Suita International Friendship Association (SIFA). This program is the Australian Government short-term overseas study program, called Endeavour Language Fellowships (ELTF). Today, the cultural activities were "Arts of Wrapping" and "Obento." The participants learned about furoshiki wrapping and how to make obento (Japanese box lunch).
A volunteer group called "Wa-gokoro" were the teachers. The Awardees enjoyed wrapping items of various shapes like a ball (aka water melon), bottle, box, and iPad in furoshiki, and also marveled at the beauty of the cloth patterns, noticing that using furoshiki is good for the environment. In making obento, the Japanese language teachers learned how to make and arrange obento morsels such as Inari-zushi, Tamago-yaki and so on.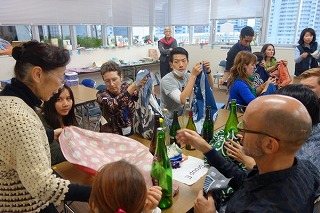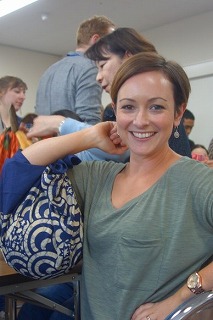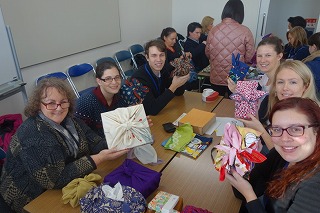 January 29, 2014 12:07 PM UP