KU student participated in a group meeting with Prime Minister Shinzo Abe
A group meeting between Prime Minister Shinzo Abe and university students from the Kansai area was held on June 28th at Osaka University's Toyonaka campus.
Seven students representing public and private universities in Osaka and Hyogo prefectures participated. Aya Hasegawa, a freshman in Kansai University's Faculty of Economics also attended the gathering. In the meeting, students and the PM had a lively 40-minute exchange of views about their university lives, studying abroad, job hunting and career paths. The discussion was led by Kumiko Bando, Director of the Higher Education Bureau, Ministry of Education, Culture, Sports, Science and Technology.
Aya talked about the university admissions system, her area of specialization, and her goal of becoming a certified public accountant. Prime Minister Abe listened to her intently, smiling at her enthusiasm.
Prime Minister Abe commented, "Your opinions overlap with themes investigated by the Education Rebuilding Council, so I will pass them on at the next council meeting." He encouraged the students by concluding "All of you are eager and have a strong sense of purpose. I hope you all keep working hard toward your dreams. I too will continue to work on bettering society to facilitate the realization of you goals."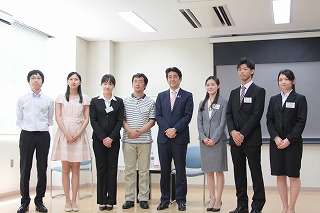 Commemorative photo with Prime Minister Abe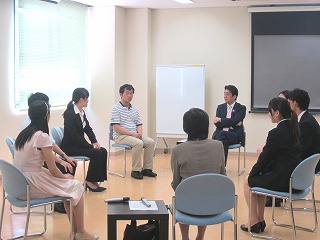 In the middle of group meeting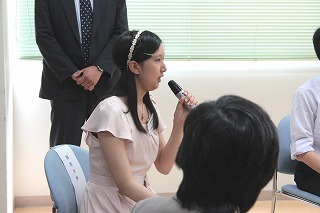 Aya Hasegawa speaking in the meeting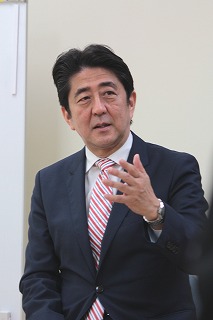 Prime Minister Abe talking to students
July 18, 2013 01:55 PM UP