Kansai University Supported Pre-Osaka Marathon 2012 Event
-Cheer up Osaka with marathon-
Endorsing this idea, Kansai University co-sponsors Osaka Marathon 2012, held on November 25th (Sun), organized by Osaka Prefectural Government, City of Osaka, Osaka Association of All Athletics, continuously from previous Osaka Marathon 2011.
On November 8th, at Nagai Stadium, pre-Osaka Marathon 2012 event "Warm up Fun Run!" was held, and Kansai University supported operating the event.
The KU cheerleader squad showed their performance in front of 800 runners, and then cheered them up for completion of full distance on side roads.
Kansai University will engage in cooperation for Osaka marathon 2012 through various efforts such as holding open-lectures to introduce attraction of marathon and Osaka, giving sports lessons, and sending volunteers for interpretation and water stations.
Pre-Osaka Marathon 2012 Event Website(Japanese)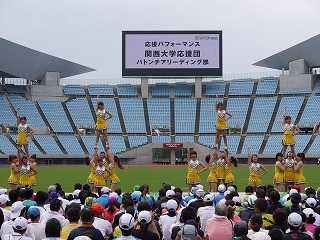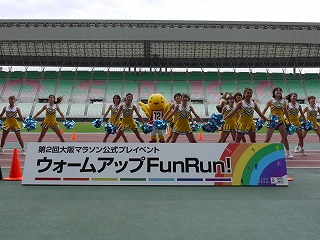 September 25, 2012 10:47 AM UP