KU International Students from Haiti Gave a Speech at 'Bosai Koshien'
On January 9, two international students from Haiti were invited as guests of 'Bosai Koshien,' where they spoke about the earthquake that had occurred in their native country in January last year, and expressed their determination regarding their country's recovery.
Mr. Steve Jean Pierre and Mr. Raymond Louis came to Japan as international students at Kansai University last September. They are currently studying Japanese language and culture.
On that day, they talked to the audience in Japanese about the Haiti Earthquake and their hopes for recovery. Mr. Jean Pierre said, "I can not ignore my responsibility to help my country." Mr. Louis said, "Luckily I got a chance to study at Kansai University. By concentrating on my study, I can forget the terrible memory. I love studying information science. For the future, I would like to specialize in this field so that I will be able to contribute to my country. Especially, I am interested in research of the areas that have a higher risk of earthquakes. The more people who study how to act when an earthquake occurs, the more hope we can have." After listening to the speech in silence, the audience of three hundred gave the students a big round of applause.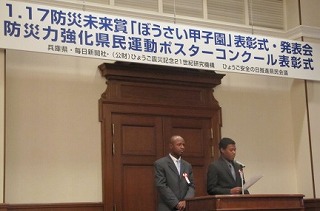 February 14, 2011 10:05 AM UP