The Second International Cooperation Special Lecture was held
The Division of International Affairs organized the special lecture on international cooperation at Senriyama Campus on May 19.
The guest speaker, Mr. Neaner Lankara, is a chairperson of the Srijinaratana Special Service Organization and a chief priest of the Itami-Sri Lanka Temple. He explained the situation in his country by showing photos and emphasized the importance of international cooperation.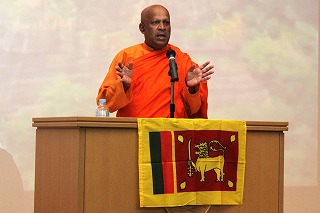 June 01, 2010 02:16 PM UP