Cheered For the Two Olympic Figure Skaters
On February 19, Kansai University students, staff members and local people gathered at Mediapark RINPUKAN on Senriyama Campus to cheer on Daisuke Takahashi (Graduate School of Letters) and Nobunari Oda (senior, Faculty of Letters), Kansai University Ice Skating Club members, for their good performances in the Vancouver Olympics.
Meanwhile in Canada, KU cheering group organized for the Olympics waved and cheered the two skaters at the Pacific Coliseum in Vancouver.
The moment Takahashi won a bronze and Oda came in seventh place, the crowd erupted into cheers and applause.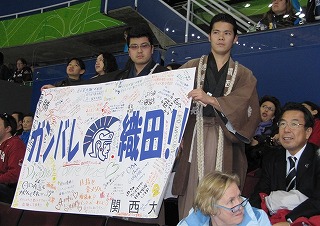 February 23, 2010 10:20 AM UP